EWS Certificate Gujarat apply online: The Gujarat government is providing 10 percent reservation to the people of general caste in the state through the Economic Weaker Section Quota. With which the standard of living of economically poor people of a general category can be raised.
What is EWS Certificate?
The EWS certificate is a very important government document. Which provides 10% reservation to the people of the general class caste (Swarna caste). EWS Certificate (Economically Weaker Sections Certificate) is for availing government jobs, government schemes, government services. The EWS certificate provides reservations only to general caste people. The main objective of which is to raise the standard of living, economic standard, the social standard of poor people by providing reservation.  
Persons not covered under the scheme of reservation for SCs, STs, and OBCs and whose family has a gross annual income below Rs 8 lakh (Rupees eight lakh only) are to be identified as EWSs for benefit of reservation.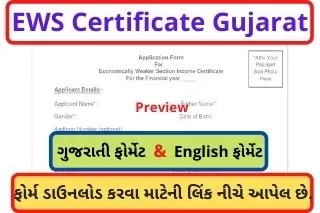 Today we will give you a direct link to download EWS Certificate Gujarat Pdf Form download and will also give other information related to this scheme like eligibility, benefits, etc.
What is the EWS certificate full form?
EWS full form is Economically Weaker Sections.
EWS full form in Gujarati: આર્થિક રીતે નબળા વર્ગ
Also read:  Domicile Certificate Pdf Form Download
EWS Certificate Gujarat 2021
To take advantage of this scheme, the people of the general cast will need an EWS Certificate in Gujarat. Gujarat is the first Indian state to implement the Economically Weaker Section reservation rule successfully.  
If you want to 10% reservation in Education, Jobs, government scheme and other benefits, you must have an EWS certificate in Gujarat.
Required documents for EWS Certificate Gujarat
Application form
Income certificate
Cast certificate
Aadhaar card
Passport size photo
Domicile certificate.
Property certificate
Notary authorized self-declaration
Also read: Mukhyamantri Bal Seva Yojana
Eligibility for Economically Weaker Section Certificate
Applicant must be a permanent resident of Gujarat
The annual income of the candidate's family should be less than Rs 8 lakh.
The beneficiary family should not have more than 5 acres of agricultural land.
The residential plot area should be less than 1000 square feet.
Applicants should be in a general category.
Also read: AnyRoR Gujarat 7/12 online
How to apply for EWS Certificate Gujarat?
Download the EWS Certificate Form PDF by the link provided below.
Fill up all the required information.
Paste a passport size photograph.
Attach all the required documents.
Submit this application to your nearest Tahsil/Block Office.
EWS Fees
No fees. there is no charge for an EWS certificate in Gujarat state. this service is free for general category candidates.
EWS Certificate Validity
As per the timeline provided on the certificate. The validity of the Economically Weaker Section EWS Certificate depends on the state from where the beneficiary applies for the reservation.
Download EWS Certificate Form Pdf
Here is Digital Gujarat EWS Form Download link given below. you can download the Pdf form and fill all the information correctly. then apply to your nearest Tahsil/Mamlatdar office.
Here is a link provided we are ews certificate Gujarat in Gujarati format, so you can easily understand and fill all information correctly.  EWS certificate Gujarat in Gujarati form is valid for offline apply.  
We hope you will like the information about EWS Certificate Gujarat Pdf Form and if you have any problems or questions about it, please comment to us.